T he INDIA ITME representing the organised textile industry INDIA ITME 2022, December 08-13, 2022 at IEML, Greater Noida, India.
India ITME 2022 shall be held in India Exposition Mart Ltd, Noida. The total number of halls will be 15 with a total area of 2,35,000 sq. mtrs, making it the largest in this industry segment. This event is expected to host more than 1800 exhibitors in 22 Chapters and is expected to have over 1,50,000 visitors over the 6 days period.
India ITME 2022 will offer unmatched business to the exhibitors as the Indian textiles industry is set for strong growth, buoyed by strong domestic consumption as well as export demand. It will open windows to various business verticals in form of leads, contacts enquiries on a massive platform.
Participation from 91 countries and 22 Chapters, making it as a one stop platform for the engineering solutions and technical technology for textile industry, servicing the whole of Indian textile industry and building India brand.
We are proud to be a part of India ITME 2022. We cordially invite you to our stall @ HALL NO: H 11, STALL NO: H 11- E22. We are showcasing our complete product series in OHTC, YCP & BTS machines. We are happy to assist you in explore our products & offers.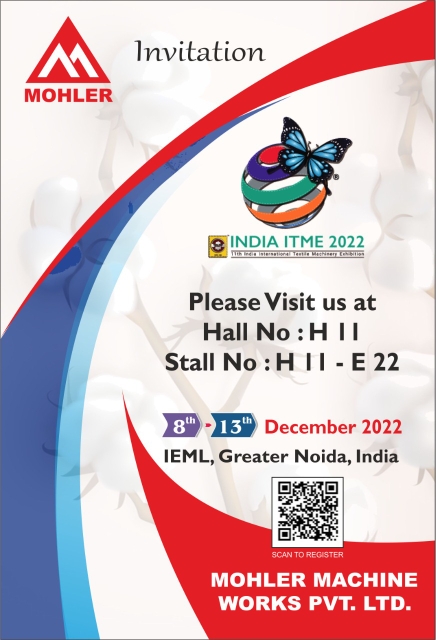 You can experience about :
Our latest product series on OHTC, YCP & BTS
Clarify your doubts with our expertise on new installations, capacity extensions & Upgrades
Know-how our delivery process
Our existing installations
Looking forward you to meet @ India ITME, 2022.
Date
08-13 December, 2022
Location
IEML, Greater Noida, INDIA.
@
HALL No: H 11.
STALL No: H 11- E22.